Carolina Value Pet Care is a veterinary-owned and veterinary-operated mobile service based in Concord, NC.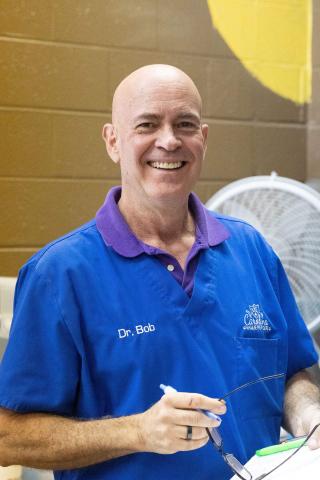 Dr. Bob Parrish, the owner and creator of Carolina Value Pet Care, has been actively involved in veterinary medicine for nearly 40 years. Born and raised in Nashville, Tennessee, Dr Bob never learned to play a guitar or sing country songs the way Hank Williams, Jr or Johnny Cash could (although he did meet Johnny Cash when he was in Boy Scouts !). But he was always surrounded by pets growing up, so he wisely turned all his attention towards animals. His father had a fondness for Welsh Corgis (this was back in the late 1960′s before anyone had a clue what a Corgi was) and Collies (must have been the "Lassie" influence), so there was never a shortage of fur around the house.  And, of course, there were always some cats hanging around, especially a big ol' orange tabby named Buttercoon that remains his favorite cat.   But Dr Bob's dad wasn't a fan of cats, so they had to stay outside … except when dad was at work.  (Probably just as well that Dr Bob never learned how to play guitar – it's just too darn hard to write a good country song about Corgis, Collies and cats !)
Dr Bob began working at Claughton Animal Hospital in Nashville while in high school.  He became an expert at bathing pets, cleaning runs & kennels, and helping hold pets for the veterinarians. And the first time he ever witnessed surgery at the vet clinic, he saw some blood and promptly passed out cold, banging his head against a wall, which partly explains his lack of any fashion sense. In spite of this set-back, he overcame the queasiness of seeing blood and ultimately graduated from the University of Tennessee College of Veterinary Medicine in 1982 (Holy smokes — 1982 ?  Are you kidding me? Wasn't the Earth still cooling back in '82 ???).
Dr. Bob owned and operated a very successful companion animal/household pet practice in Concord for nearly 20 years, then realized that he was spending far too much time running a business and far too little time being a veterinarian. So he cheerfully sold his practice in 2002.  He then spent another 10 years traveling throughout North Carolina providing veterinary relief services (working for and filling in for other vets when they would go on vacation or to meetings, etc). After practicing and providing preventive medicine & care, diagnostic services & treatment, and surgical skills for 30 years, Dr Bob made a commitment in the summer of 2012 to provide affordable basic veterinary health care to all pet owners. And with the help of many like-minded individuals, Carolina Value Pet Care became a dream come true in October 2012.
Dr Bob lives in Concord with his wonderful wife Catherine Le Roux ~ the lady with the funny French accent who most everyone meets when they check-out at our vaccine events ~ and their 2 dogs Lucy (an ultra-cute but painfully shy Corgi-Sheltie mix that was rescued from the Rowan County Animal Shelter) and goofy, monkey-faced Lilou.
Catherine is allergic to cats, so there are no indoor kitties in their household. And with no indentured servants (I mean, children) in their lives, they dote obsessively on the dogs.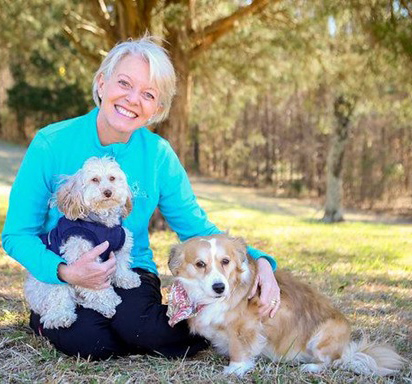 In the category of "more information than you probably want to know", Dr Bob's second passion after providing affordable pet care is exploring the planet with Catherine.
He's now been to 128 countries and all 7 continents. Here are his "Sweet 16" Favorite Countries & Regions of the world:
Highlights of their adventures include
giving out dozens of eyeglasses to elderly people in poverty-stricken Bhutan and watching their faces glow when they could see with some clarity again, often for the first time in years…
hiking 13 days to Mt. Everest Base Camp at over 18,000 ft …
enjoying the you-never-know-what-you'll-see-next thrills of African safaris…
hiking up a 2000 foot mountain at night in Ethiopia to witness the burning glow of the world's only permanent lava lake in the remote Danakil Depression, one of the 5 hottest places on earth…
seeing sharks and giant sea turtles gliding by among endless schools of technicolored fish while snorkeling the Great Barrier Reef of Australia…
being surrounded by a colony of 200,000 smelly King Penguins and their large, brown fuzzy babies on South Georgia Island…
observing Orangutans grazing in the tree-tops in the wilds of Borneo …
hiking 4 days along the Inca Trail, punctuated at the end by glimpsing Machu Picchu for the first time as a curtain of early morning clouds gently lifted above this fabled site…
finding a welcoming Muslim family that took us into their home for the night and treated us like royalty in tiny Ait Ourir, Morocco, when we ran out of both money and gas in our car…
watching the rising sun paint vibrant hues of crimson-orange-pink on Angkor Wat in Cambodia, the Taj Mahal in India, and Uluru (Ayers Rock) in Australia…
bicycle riding in remote rural areas of Vietnam, and taking dozens of Polaroid photos and handing them out to mesmerized and grateful subsistence farmers and their families who have little more than a small rice paddy and the will to survive…
being mesmerized by the ever-changing colors and dancing of the Northern Lights every night for a week in Alaska while enduring temperatures hovering around 20 degrees below zero (brrrrrr !)…  
creating hilarious photos with unique perspectives in the massive, barren and endless white salt flat of Salar de Uyuni  ~12,500 ft altitude in Bolivia…
and best of all, sharing it all with Catherine!
"If you are looking for affordable vaccines, knowledgeable & friendly people that will take care of your pets as if they were their own: Carolina Value Pet Care is the place for you."